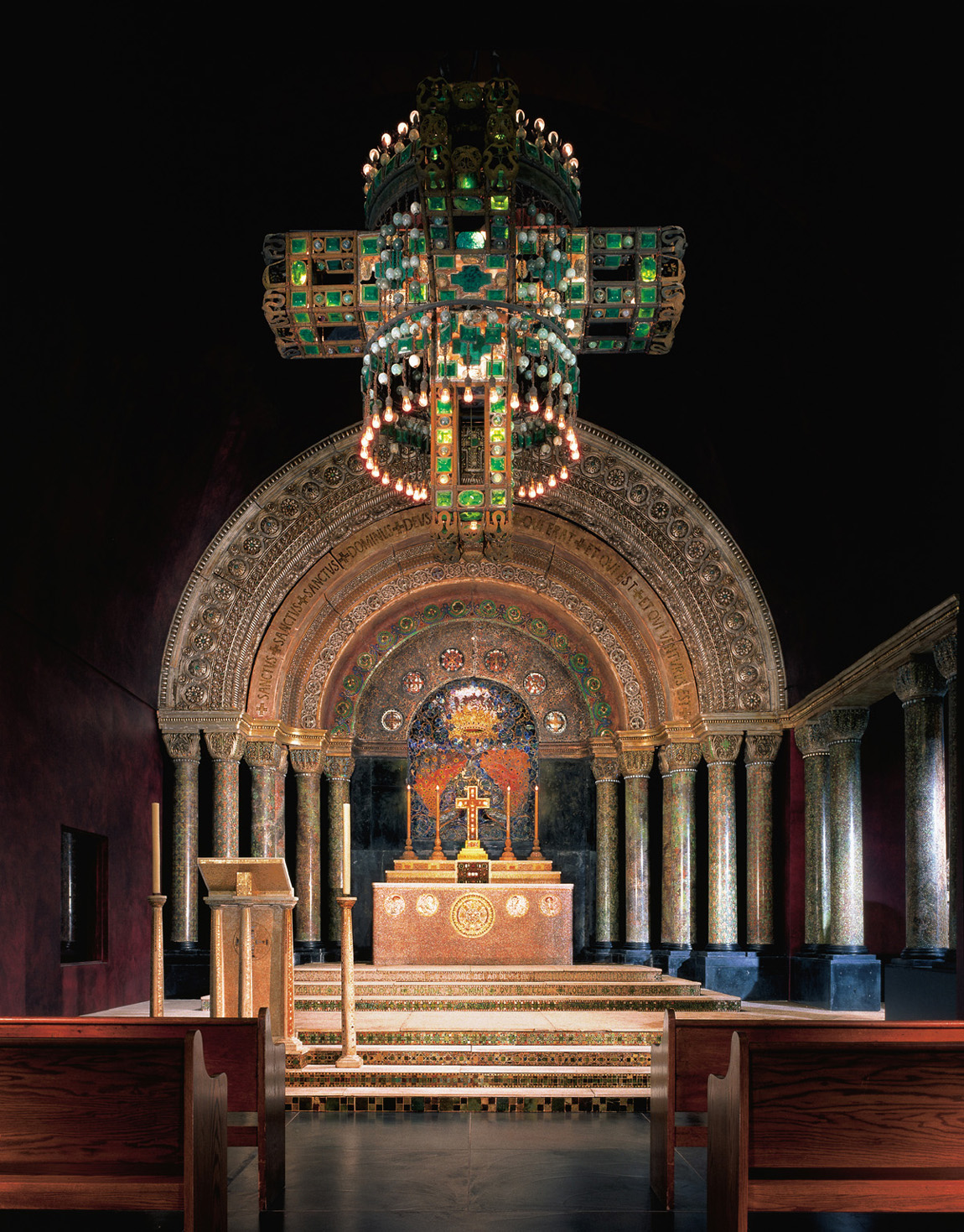 Laurelton Hall, Long Island, New York, 1902–57
Exhibited: World's Columbian Exposition, Chicago, 1893
Tiffany Glass and Decorating Company, New York City, 1892–1900
In 1893, Louis Comfort Tiffany (1848–1933) created a chapel interior for the Tiffany Glass and Decorating Company exhibit at the Chicago world's fair, which was officially called the World's Columbian Exposition. A tour de force of design and a virtuoso performance in the arts of mosaic and glass, the chapel was a sensation and brought the already successful designer to even greater heights of popularity both in America and abroad.
After the fair, Tiffany reinstalled the chapel at his studios in New York City. Then it was installed in a substantially different form in 1898 at the Cathedral Church of Saint John the Divine, also in New York City. Though used for services for about ten years, the chapel eventually fell into disrepair, its very existence threatened. In 1916, Tiffany reacquired the chapel, restored it, and installed it in a small building at his Long Island estate, Laurelton Hall. In 1959, twenty-six years after Tiffany's death, Jeannette and Hugh McKean acquired the remains of the chapel at Laurelton Hall. In the years following, they reassembled virtually all of the furnishings and windows that had been dispersed.
With the exception of two of the four benches, all of the elements in the Museum's chapel exhibit are original to Tiffany and most date from Chicago, 1893. These include the decorative moldings, altar floor, carved plaster arches, marble and glass-mosaic furnishings, four leaded-glass windows, sixteen glass-mosaic encrusted columns, and a ten-foot by eight-foot electrified chandelier. The non-historical parts of the chapel—walls, nave floor, and ceilings—are based on available knowledge of Tiffany's installations at Laurelton Hall and Chicago.
Watch the video The Tiffany Chapel—A Masterpiece Rediscovered