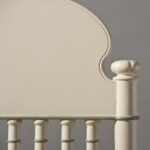 Vignette: Preserving Louis Tiffany's Interior Design—The Ayer Mansion
Opens October 18, 2022
One of Louis Comfort Tiffany's most complete design commissions for a residence was the Ayer Mansion, located on Commonwealth Avenue in Boston. For two decades, much of the private mansion was accessible to the public through the nonprofit organization, the Campaign for the Ayer Mansion. A recent sale of the building means this Tiffany treasure will no longer be enjoyed by the public. Fortunately, the Campaign for the Ayer Mansion and Ayer family members generously donated furnishings from this Gilded Age interior to the Morse Museum. The Campaign felt that the Morse Museum would serve as the appropriate custodian, since it is the caretaker of the "lost treasures" of Tiffany's own home, Laurelton Hall. This fall, the Morse will display these few tangible elements that remain from the Ayer Mansion—providing a glimpse into the remarkable home while stimulating a discussion on historic preservation and Tiffany's design commissions.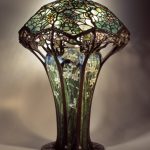 Lamps and Lighting—Tiffany and His Contemporaries
Opens March 7, 2023
Few designers did more to bring art into the home than Louis Comfort Tiffany (1848–1933), and few of Tiffany's incredibly varied products did more in this regard than his lamps. Tiffany had been interested in lighting since his days as a decorator, but the rapid adoption of electricity in the late nineteenth and early twentieth century created unprecedented opportunities to marry technology and beautiful design for a much larger group of consumers. The new installation of Lamps and Lighting—Tiffany and His Contemporaries showcases some of Tiffany's most innovative designs for lamps and sets a context for their production and design. John Dikeman's workbench and lamp molds, recent acquisitions by the Morse, illustrate the process used in the creation of a lamp. Dikeman (1882–1967) was the head of Tiffany Studios lamp department until it closed in the 1930s.