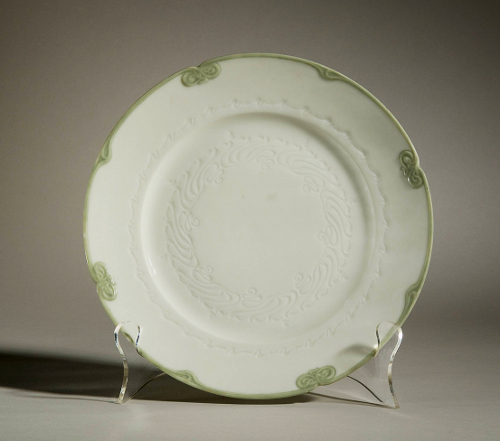 Canton pattern
Glazed porcelain
Édouard Colonna, German,1862–1948
Maker: Gerard, Dufraisseix & Abbot
Retailer: Siegfried Bing's L'Art Nouveau, Paris, 1895–1904
Gift of Barbara Wiles
Diam. 8 1/2 in.
(PO-100-81)
This glazed porcelain salad plate was part of a dining service sold by Siegfried Bing (1838–1905), whose Parisian shop L'Art Nouveau gave the name now universally used to describe the international design style so well known for its lively line and organic form. In French, art nouveau literally means "new art." The plate is an excellent example of the fusion of exoticism and modern sensibility. Édouard Colonna designed this porcelain pattern for Bing, calling it Canton after the southern Chinese province.
Produced by Gérard, Dufraisseix & Abbot (GDA) of Limoges, France, the Canton pattern reinterprets the traditional Chinese cloud and wave lines around the edge and incorporates both the incised and molded designs seen on Chinese Tingware vessels on the entire plate. The Canton dining service was produced in three different colors—rose, gold, and green. The pale green contrast color on the plate—referencing "celadon" from the Song period in China—would have been as readily connected with China as the plate's design.
Bing's relationship with Colonna began around 1897, and the Canton pattern reflected Bing's evolving artistic interests. The dealer had been associated with the Asian art market before directing most of his efforts to Art Nouveau. In this plate's pattern, it is easy to see how the dynamic lines, flat color patterns, and stylized organic forms of Art Nouveau drew inspiration from Chinese ceramics.