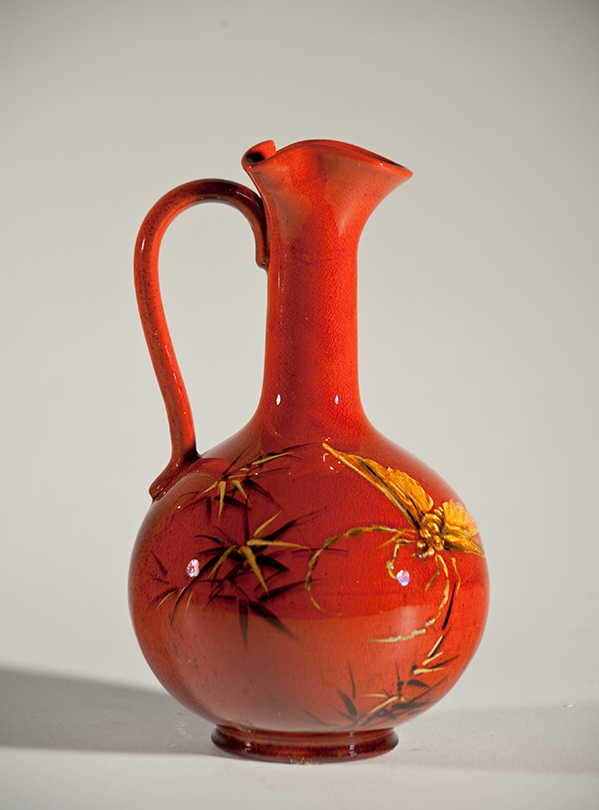 Moth
Shape No. 101 C
Glazed red clay
Rookwood Pottery, Cincinnati, 1880–1967
Decorator: Matthew A. Daly, 1860–1937
H. 8 3/4 in.
(PO-138-86)
Artist Matthew A. Daly decorated this red claret jug for Rookwood pottery in 1885. The shape of the jug is named for a red wine from the Bordeaux region of France. According to the November 10, 1883 edition of Bonfort's Wine and Spirits Circular, claret was a favorite among Englishmen as it was believed to be "the pure juice of the grapes of the vineyards in the vicinity in which they are made." Claret jugs were designed to allow wine to "breathe"—a practice believed to bring out more complex flavors in wine by exposing it to oxygen—before serving.
Both the exterior glaze of the vessel and the clay underneath are a tribute to its namesake. The clay body is made of Ohio red clay covered in an underglaze or slip, and the surface is coated with glaze that can vitrify at a lower heat, allowing for a rich glow and warmer color. The painted moth is possibly a nod to Asian or Native American cultures, both of which believe the moth has symbolic connections to the afterlife. This particular moth resembles a stylized hummingbird hawk moth, a species found in Southern Europe and Asia that grows to nearly two inches, with relatives in North America and Africa.
Daly was a primary artist at Rookwood for 21 years. A skilled painter, he worked mostly on thrown vessels. In his free time, he also painted landscapes and portraits on canvas and remained an active artist even in retirement.