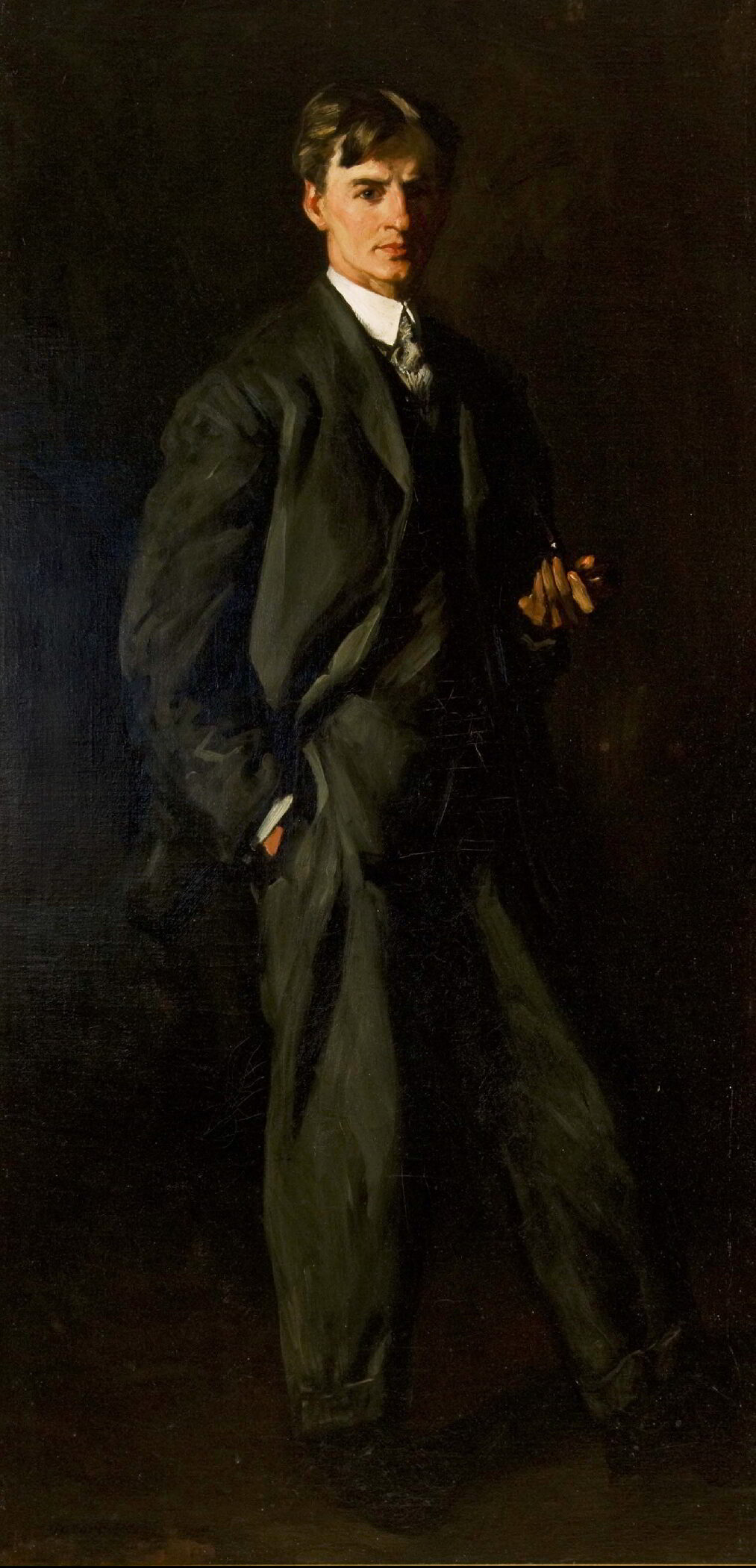 Portrait of James Preston, Esq.
, 1904
Exhibited: Lewis & Clark Centennial Exposition, Portland, Oregon, 1905
Oil on canvas
Robert Henri, American, 1865–1929
Gift of Mr. and Mrs. Martin Andersen in memory of Hugh F. McKean
Signed, lower left: Robert Henri 1904
Marks: 13 C / Robert Henri / Portrait of / James Preston Esq. / by Robert Henri / 58 West 54 New York Arts
76 3/4 x 38 3/8 in.
(P-001-95)
Audio Guide
Robert Henri demonstrated his technical skill when he painted his friend and fellow artist James Preston (1873–1962) as a refined, successful gentleman. The work was shown at several exhibitions including the 1905 world's fair in Portland, Oregon—the Lewis and Clark Centennial and American Pacific Exposition and Oriental Fair.
In this large painting, Henri evokes the strength, confidence, and poise of Preston, an artist and illustrator. The urbane Preston, smartly dressed and cupping his pipe, was not much more than thirty-years-old when this work was finished. In 1891 in Philadelphia, Henri befriended a group of young artists and illustrators, including Preston, and invited them weekly to his studio for discussions on art, culture, and current events. Henri espoused realism and was a leader in the Ashcan school of realism and prominent among that group's leaders, who were called The Eight. In his book The Art Spirit, Henri encouraged his students to make art meaningful to their lives. Through his teachings and the shows he helped to organize, Henri was enormously influential on young artists like Preston.