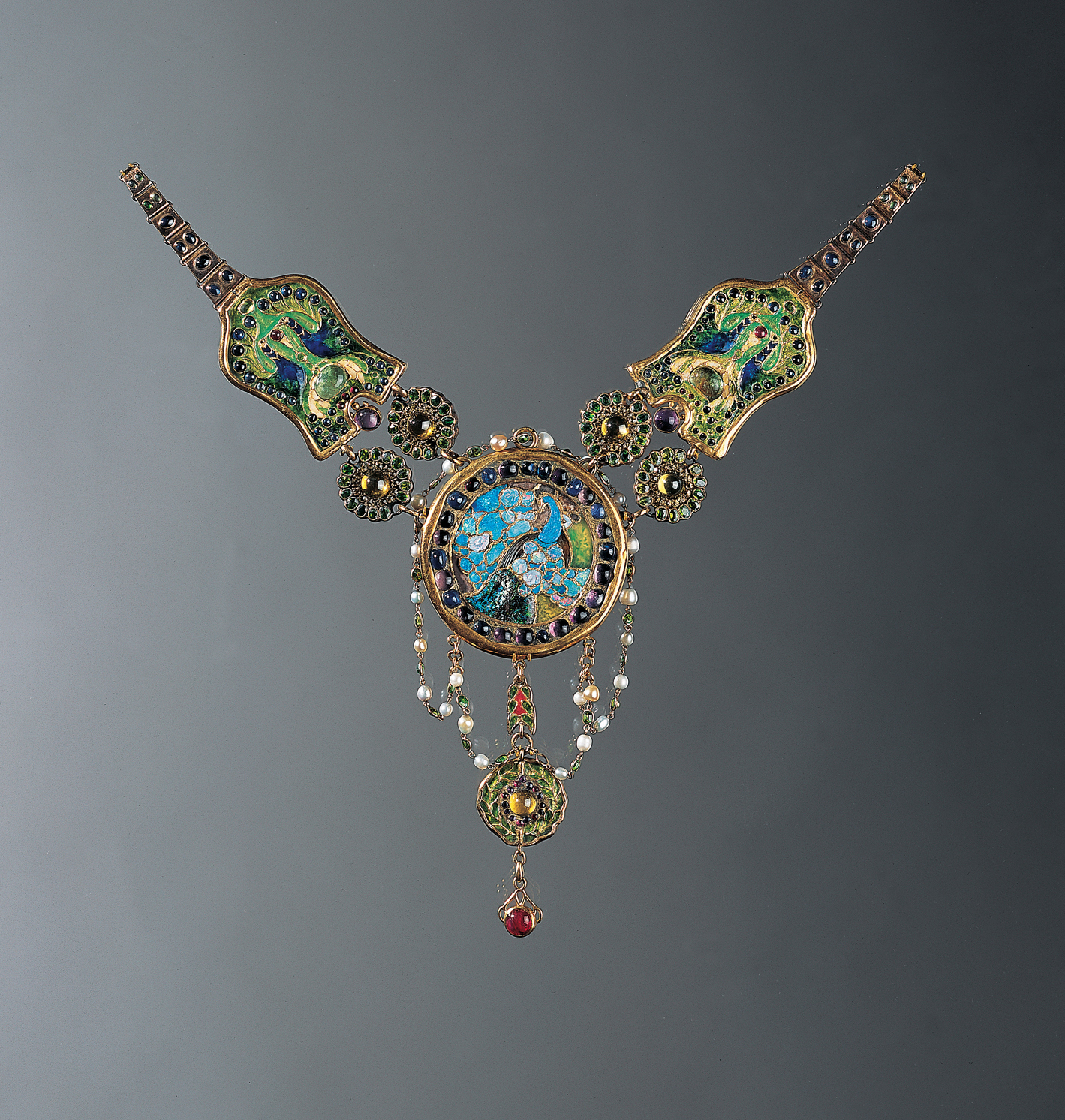 Exhibited: Salon of the Société des Artistes Français, Paris, 1906
Peacock and flamingo
Enamel, opal, amethyst, ruby, sapphire, demantoid garnet, emerald, chrysoberyl, pearl, gold
Tiffany & Co., New York City, 1837–present
Designer: Louis Comfort Tiffany, American, 1848–1933
Jeweler: Julia Munson [Sherman], American, 1875–1971
Marks: TIFFANY & Co.
H. 10 in.
(58-001)
Audio Guide
Louis Comfort Tiffany (1848–1933) only produced a few hundred pieces of his art jewelry, and the most significant example in the Museum's collection—the "peacock" necklace—is arguably the designer's most important existing work in the medium. Though reportedly designed for the debut of his line of art jewelry at the 1904 Universal Exposition in St. Louis, the peacock necklace was not exhibited until 1906 at the Société des Artistes Français in Paris. The front medallion features a peacock mosaic of opals and enamels surrounded by amethysts and sapphires. Exhibition pieces were finished on both sides, and the back of the necklace is an enameled design of pink flamingoes. Unlike the extravagant jewelry produced under the direction of Charles Tiffany (1812–1902) at Tiffany & Co., Louis's jewelry was distinguished by design and color. He executed his innovative creations—many drawing from the organic forms that had inspired him in glass—using largely semiprecious stones and enamels. His father, on the other hand, had built a reputation using precious jewels purchased from post-revolution European royalty. A review of the St. Louis world's fair in The Craftsman (Vol. 7, November 1904) took note of Louis Tiffany's jewelry and how he employed "more unusual stones and gems; choosing them always solely with a view to the desired artistic result, and setting aside all question of their market value.