Family Programs
The family programs at the Morse are free to participants. Many of the programs are offered on Friday evenings in conjunction with the free public hours the Museum provides each Friday night from November through April. Also, free family guides are available at the Visitor Services Desk.
2012-2013
Art Demonstrations
Select Fridays, November through April
6:00 p.m.–7:00 p.m.
The Morse schedules art demonstrations to further understanding of the techniques and processes used to create objects in the Museum's collection. They take place in the Jeannette G. and Hugh F. McKean Pavilion just behind the Museum. At each demonstration, children receive a free take-home activity.
Stained-Glass Demonstration
December 14, 2012
6:00 pm - 7:00 pm
Melody Spence
Flameworking Demonstration
February 8, 2013
6:00 pm - 7:00 pm
Ron Bearer, Jr. and Rocio Bearer
---
Family Tours
A docent-guided tour through the galleries for the whole family. Learn about Louis Comfort Tiffany and American art of the late 19th and early 20th centuries.
---
Winter Park Sidewalk Art Festival Children's Workshop
The Morse joins other museums in providing fun art activities for children at the 2013 Winter Park Sidewalk Art Festival. The festival takes place March 15–17, 2013 in downtown Winter Park with activities at the Children's Workshop Village. During the three-day festival, the Morse will have its workshop open on Friday, March 15 and Saturday, March 16. The Children's Workshop Village is located at the north end of the park, adjacent to Morse Boulevard and west of the railroad tracks.
---
Summer Family Programs
Each summer the Morse organizes free programs exclusively for elementary-school-aged children and their parents or guardians. Please note that the number of participants is limited, and reservations are required. A $5 refundable deposit per child is requested when securing a reservation for either program. For more information, or to make a reservation, please call the Education Department at (407) 645-5311, extension 136. To assist us with scheduling, we cannot accept e-mail reservations.
Tuesday Family Tours
June 18, 2013
June 25, 2013
July 2, 2013
July 9, 2013
July 16, 2013
July 23, 2013
July 30, 2013
Friday Family Films
June 28, 2013
July 12, 2013
July 26, 2013
August 2, 2013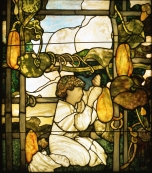 Window,

c. 1898
Living room, Laurelton Hall
Exhibited: Grafton Galleries, London, 1899
Figure with gourds
Leaded glass
Frank Brangwyn, 1867–1956, designer
(U-070)